Adults Art Classes
Adults Art and Craft Classes are perfect for Groups & Special Occasions!
Classes are 2 hours and each participant takes home what they have made at the end of the session. Leona has a list of projects suitable for your group and offers different themes within each project. Previous Classes have included Glass Painting for a 60th Birthday Party, Step by Step Summer Painting for a teen party with all the family, Father/Daughter Bonding through learning Mosaic, Making greetings Cards with a Well-being Charity and Friends Reunion Cushion Cover Painting.
An Art and Craft Class is suitable for:
Milestone Birthday Parties – 30th, 40th, 50th, 60th, 70th, 80th Birthdays

Family Bonding Sessions – including Mothers day, Fathers Day, and for larger groups of Parents, their Children, Grandparents, Aunties, Uncles and Cousins

Charity Group Get-togethers and Celebrations

Seasonal Parties for Friends, Colleagues and Community Groups

Wedding Anniversaries – Quality time with your partner 
Get in Touch
Testimonials
"Thank you for an inspired afternoon, l really enjoyed learning Mosaics in 3D"
"As a beginner it was fun to make my first mosaic, Leona provided everything I needed for a positive creative experience. By the end of the workshop I had made a Mosaic art piece that I will treasure"
'Thank you for a fabulous Mandala Class. It was so much fun! I highly recommend your Art Classes to beginners up to advance level. You are amazing'.
'A great time with Leona at her Art Class. Friendly and helpful tuition in a small group with a variety of materials to choose from. Plentiful tea and biscuits for the contemplative pauses :)'
"It was so lovely to meet you and l really enjoyed the evening. You are a very good teacher."
Dear Leona, today's Mosaic Making Class was wonderful! Its so fascinating…I wish I could do more! I enjoyed every single moment and really appreciate your lovely instructions, the refreshing ginger-lemon tea/biscuit and last but not least your awesome friendliness with a smile on your face always….its really worth it!"
Leona is an instinctive teacher, she is very knowledgeable, helpful and patient, she listens and gives great feedback and manages to draw out the best in you. The end result is fantastic and we all feel very proud of our achievements. Mosaic with Leona has been a really good experience and I am greatly looking forward to the next one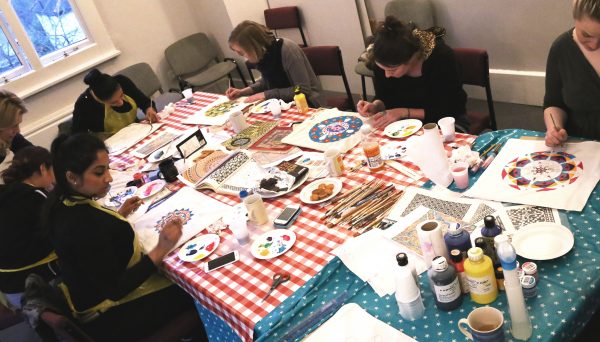 Find out more about Leona's BRAND NEW
Online Art Classes!
Want to Learn How to Draw, How to Paint, How to Sculpt and How to Mosaic from the comfort of your own home?




Well now you can, with Leona's Brand New Online Art Classes!



Beginners Mosaic Art – 24th February 2018


Learn the basic techniques of Mosaic Art with Leona. 

3D Mosaic Art – 24th March 2018


Learn how to make a dry paper mache form and then Mosaic it in 3D. Suitable for all skill levels. 

Make a Mosaic Door Number or Artwork – Saturday 4th March 2017


Make a Door Number Plaque, Sign, Teapot holder or Artwork for your home and take it with you at the end of the class. Learn the techniques of Mosaic Art – a historic and simple process that is a delight to learn

Making a Public Mosaic Artwork for Muswell Hill – June, July and August 2016. Muswell Hill, N10.


3 Afternoons of pre-booked Mosaic workshops to add your own section of Mosaic to a permanent Artwork for Muswell Hill.

Mandala Making Painting Classes – February 2015 and March 2015. Muswell Hill, N10.


One Weekend day class and one weekday evening class. Fabric Painting onto a Fabric Bag or Cushion Cover. Learn the techniques of Mandala Making and have fun evolving your Mandala Design using the inspiration provided.

3D Mosaic Flowerpot – May 2014. Muswell Hill, N10.


Learn the technique for mosaicing in 3D! If you haven't mosaiced before then get ready for a delightful session with lots of glass and ceramic tiles to choose from. If you have then you get to develop your skills in a different way.

Make a Mosaic Door Number/Artwork Plaque – 2 classes in February 2014. Muswell Hill, N10.


Learn the basic techniques of mosaicing using the direct method. Huge collection of glass and ceramic tiles to choose from. All reference images provided.

4 Week Course – Clay Models, Drawing, Collage and Painting Spring 2012.


Learn the basic techniques of Art with Leona. Connect or Re-connect to your Creativity and take home 4 beautiful pieces of Art for your home.