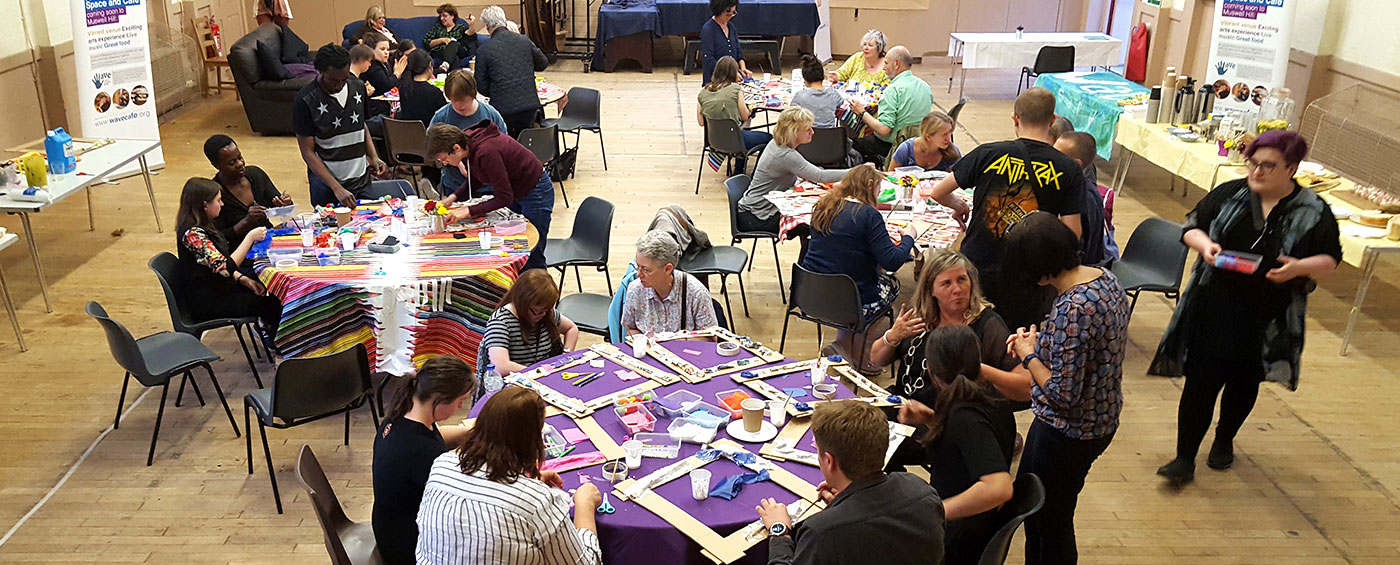 Art and Craft Workshops for Events in London
We offer Art and Craft Workshops for Events in London and the U.K. We have provided Art activities for London Festivals, Fetes, Well being Days, Corporate Events, Away Days, Local Get togethers, Charity Events and Christmas Fetes and Fairs.
We provide unique, engaging and dynamic Art and Craft Workshops.
Our Project list contains 15 Art and Craft Projects for you to choose from. They have all been successful at our Events over the past decade. The Activities include Drawing, Painting, Collage, Sculpture, Collage and Crafts.
Art and Craft Workshops for Events in London are suitable for Adults, Children or Familes
Whether its an Event specifically aimed at Adults, Children or Families, your guests will discover new skills, take home something beautiful they have made and have wonderful memories of their day.
All materials are provided and experimentation is encouraged in a dynamic and supportive way.

Choose from a list of original and unique projects where participants can take home what they have made at the end of their session.

There is also the option to choose an Art project where a whole community can create a unique Artwork together.

All our Art and Craft Workshops are tailored to your requirements. Get in touch to discuss your options today.
Testimonials
"From start to finish, Leona and her staff have been a pleasure to work with. They were friendly & professional throughout the entire process, responded quickly to my enquiries and always made me feel valued as a client. They worked at an extremely high-profile job and the feedback from everyone who attended was excellent. I'll definitely be in touch with them again as soon as I require more workshops."
"Leona's pop-up workshop at our fundraising event was a massive success. We had guests coming back to us and saying that it was an absolute delight to be able to learn a new skill and how healing it was to express themselves in a very inclusive atmosphere. Leona was a delight to work with. She was well prepared, organized, very kind instructor and able to inspire people to get truly creative. "
"It has been an absolute pleasure to work with Leona over the last four years of Art in the Park. Leona has provided a range of art and craft activities during that time which have always attracted a wide group of people both young & old. I would highly recommend Leona who really does tailor her activities to suit your needs & budget. I look forward to continuing to work with Leona."
"Artists Resource helped keep a group of hearing impaired children and their siblings amused whilst their mums were being 'Pampered' at our recent Well-being Morning. They were punctual, well organised, resourced and even tidied up after themselves! Leona was very warm and personable and everyone was made to feel welcome. She was able to keep the children engaged and is inclusive of everyone's level of ability. I heartily recommend Leona and Artists Resource."
"A huge thank you for this weekend. You did such a fantastic job. I thought your set up was so good. The material you chose was beautiful and looked like you were flat out working the whole time. It makes such a difference when I'm running about the place at the event to know that someone is doing a great job".